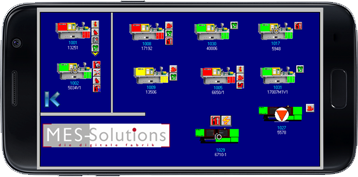 Web Production Monitor
Changes in the production status are visualised in real time. The user can therefore immediately identify and process all events such as a lack of production enables, exceeded scrap limits or staff shortages. The difference between the Web Production Monitor and the Web Terminal is that the Web Production Monitor only displays information, whereas the Web Terminal allows you to operate the system on the move.
Mobile production monitoring with the Web Production Monitor
The Web Production Monitor can be accessed from all mobile devices equipped with a web browser. A network connection is required. You can view the current status of production wherever you are – in the shift manager's office, anywhere on the site or even outside the plant. Display on a large screen in the production plant has proved particularly helpful, as it enables all personnel to react directly to events as they occur. Modern TVs have a web browser. This means it is no longer necessary to connect a PC to the TV set.