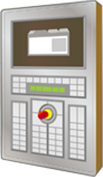 DNC Administration
Convenient management of an unlimited number of DNC records

Create and print setup data sheets

Upload and download records from every PC Terminal

Contribute to achieving paperless production

Avoid incorrect entries and resulting problems
DNC – Direct Numerical Control
DNC Administration maps the paperless exchange of DNC records between machines and the ODA system. The number of records is unlimited, and administration is convenient. Records can be uploaded and downloaded from every PC Terminal, which means it is no longer necessary to download the DNC records to the machine control system via disk. Moreover, in the case of a given manufacturing combination comprising machine, part, material and tool/mould, download to the machine can also be carried out automatically. This eliminates the risk of inserting the wrong disk or making incorrect entries. Furthermore, a plausibility check is first performed on every download, which means that DNC records are not downloaded to incompatible machine control systems. This prevents accidents with possibly serious consequences.
Administration of the DNC records
The module offers the user a wide range of useful functions and tools for administration. The following section outlines a few of them.
To reduce the administrative effort, it is possible to copy data sets. The precondition here is that the setup data are of the same control system type. Where nominal values are available and the machine control system type is identical, data sets can be compared.
Data sets which are no longer required can be deleted. These records can then no longer be downloaded to a machine control system. The user can protect specific data sets. These can then no longer be deleted. If it is necessary to bar specific DNC records from use temporarily, the corresponding records can be deactivated. And of course, they can be reactivated at a later point.
Where DNC administration has been in use for several years, a vast number of DNC records will accumulate. Various criteria can be defined to make it easier for users to locate specific data records. The selection options for the display of DNC records is restricted based on these criteria.